Silo number one
Chief Te Huruhuru and Michael Studholme
The first painted silo is a tribute to Chief Te Huruhuru and one of the first European settlers in the area, Michael Studholme. Chief Te Huruhuru peacefully welcomed Michael Studholme to Waimate in 1854. The artwork imagines the pair greeting with a traditional Maori hongi. The mural faces the monument to these much-respected men, and west towards the Studholme's farm, Te Waimate.
Te Huruhuru, of Waitaha, Kati Mamoe and Kai Tahu descent, was chief of Te Waimatemate Pa and the most important man in the Waimate district when the first European settlers arrived.
Prior to settling in Te Waimatemate (Waimate) Te Huruhuru was based at the lower Waitaki River mouth. He provided valuable information on the geography of the land through to Central Otago to Edward Shortland, who was travelling the island conducting a census. He provided a map that included Lakes Wanaka, Hawea and Wakatipu, and the route to them over the pass called Okahu (Lindis Pass). Shortland described Te Huruhuru as 'a man of singularly pleasing manners and address'.
Bishop Selwyn also met Te Huruhuru, sharing a meal of eels with him before the Chief ferried him across the Waitaki River. He also found Te Huruhuru 'singularly charming'.
Te Huruhuru and most of the lower Waitaki people shifted to Te Waimatemate in the 1850s, where they established a village at Tutekawa, on the west bank of the Waimate River. Some 40 or 50 people dwelt there, in 25 dwellings of totara bark.
Michael Studholme, arrived in 1854 looking for land for a sheep station. He made a peaceful accord with local chief Te Huruhuru at Te Waimatemate, and found him 'a fine looking man as regards features. He was deeply tattooed, the whole face being covered. He had a broad, high brow, and bright, piercing eyes'.
Te Huruhuru was said to be 60 years of age when he died in 1861. He is buried in the Maori cemetery at Point Bush. He is commemorated by a memorial raised nearby in 1934. A peak in the Hunters Hills is named Te Huruhuru.
A monument was erected in 1934 to commemorate the meeting place between Chief Te Huruhuru and Michael Studholme. It can be seen on the corner of Queen Street and Hakataramea Highway (Gorge Rd). It was officially opened by Joseph Thomas Te Huruhuru (grandson) and E.C. Studholme (son).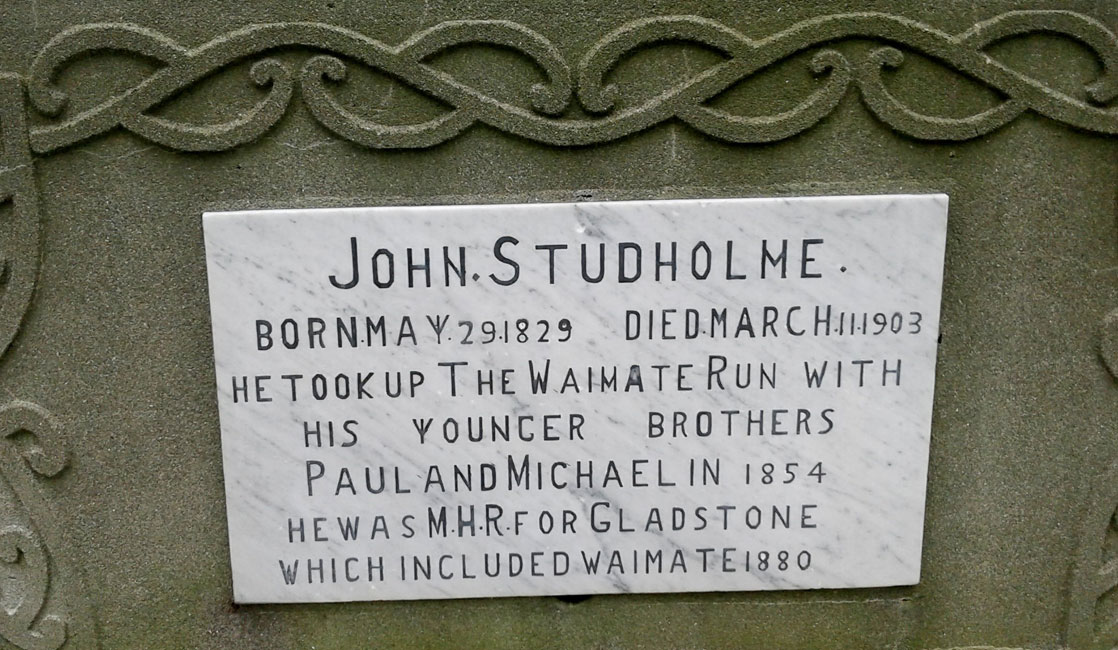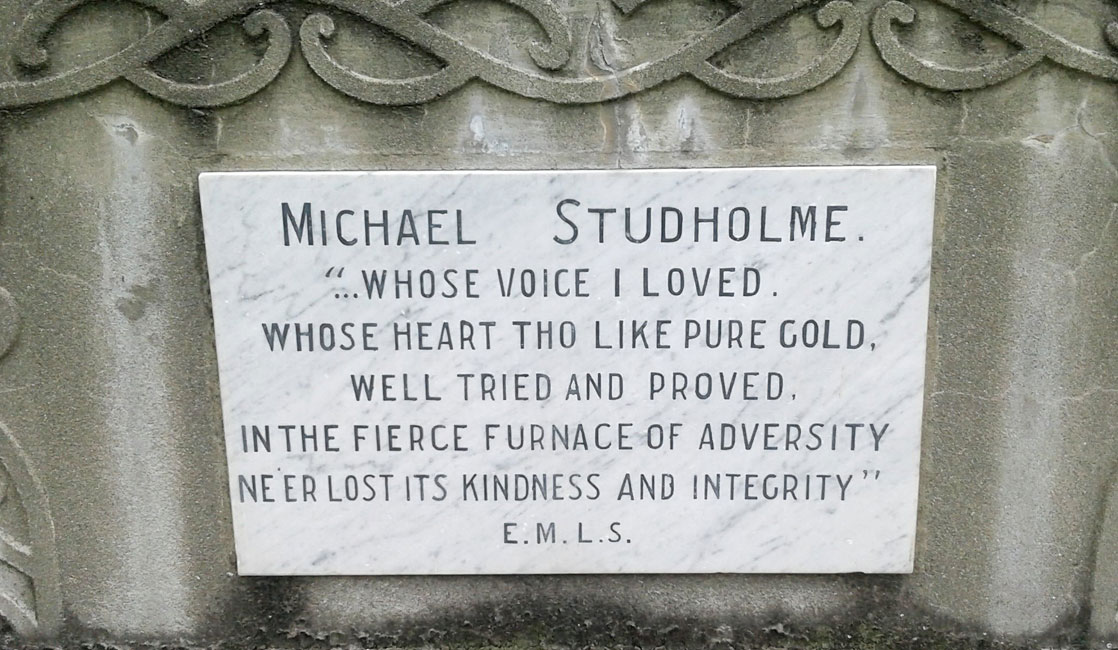 Descendants of Te Huruhuru and other Maori from those days still have strong connections to Waimate - their hapu, Te Runanga o Waihao is based at the Waihao Marae, at Morven.
The Studholme family still farm at Te Waimate Station - once a little house in the forest, and now a farm on the outskirts of town on the SH82 inland route. Michael Studholme's first home, the Cuddy, is still on the property.